Please help us find Jenna a kidney.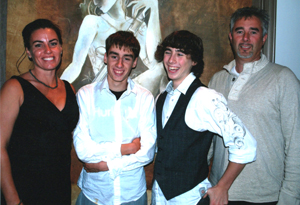 We hope that you will consider David's worthwhile foundation and give generously. Donations can be made to The David Gregory MacKinnon Memorial Foundation and addressed to:
2032 Portage Road
Niagara Falls, Ontario
Canada
L2J 4J7
Charity Registration #84538 6705 RR0001
You can also donate easily and securely online via any major credit card or PayPal account simply by clicking on the button below. You will be enabled to select the denomination amount of your choice.
Limited Edition Prints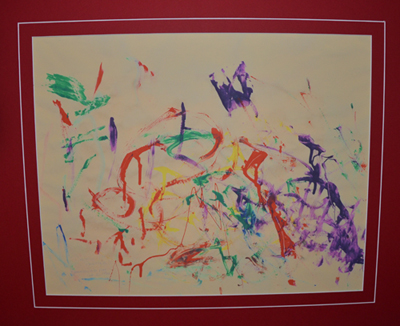 20 X 24 Acid Free Matted or Framed
Artist: David Gregory MacKinnon
Medium: Acrylic
Original Produced: October 10, 1994
This piece was the first painting done by this artist, David MacKinnon. He was just two years old and his mother introduced him to the medium of Acrylic paint. David used a medium point sable brush on craft paper.
The paper was a gift from his grandfather, David Terrance MacKinnon. The easel he painted at was a gift from his father David Wayne MacKinnon. This colourful, well balanced limited edition print measures 20 X 24 when matted or 23.5 x 27 when professionally framed in a classic and neutral stainless steel frame and would make a beautiful addition to any decor.
A matted limited edition print can be yours as our gift to say thank you for your generosity when you choose to become a recurring monthly supporter of $20.00 or more to The David Gregory MacKinnon Memorial Foundation. Please sign up with the PayPal button below and select the amount you would like to donate each month.
| | | |
| --- | --- | --- |
| Limited Edition Matted Print – $ 99.00 | | Limited Edition Matted and Framed Print – $199.00 |
| | | |
Tags
Donate Now!
Reg. #84538 6705 RR0001